The common struggle with finding content is real.  We all have experienced the hardship of trying to find a piece of content we were told to watch only to end up in a 30 minute treasure hunt that requires a small IT background and includes opening and closing (and perhaps downloading) multiple apps, entering/updating passwords, searching for movie or series titles or even sometimes episode or clip names via text or voice depending on the setup you have in that particular room. 
To say the least, finding content can be grueling, just ask Howard Stern who recently hilariously described his struggle to find an episode of Yellowstone.  We will dig into the hilarity a bit later.
Ok, let me digress.  Over the past 10 years we have made a ton of amazing technological strides in regards to content discovery and in particular, search, and I don't want to discredit these super helpful advancements.  I think we all can agree that the ability to talk to your remote or "voice search" is a game changer (sadly the universal remote that I use still has me using text for searching which we all know is a complete pain).  And, the simple ability to search across multiple apps on a streaming platform, the definition of "universal search," is a necessary feature that we were blessed with in the last little while but it is far from perfect.  Note that I said "the simple ability to search across multiple apps on a platform," I didn't say "all the apps on a platform."  Why?  Because NOT ALL APPS ARE IN SEARCH!!  It is this imperfection in search and discovery that makes the struggle real, and in the case of Howard Stern, extremely funny and entertaining.
"God I hate this streaming.  I hate it. TV has become too much work to find sh*t."  This is one of the best quotes from Howard Stern who recently blasted Paramount for making their show Yellowstone so hard to find.  His producer Gary Dell'Abate chimes in with the typical incorrect info "It's on Peacock."   Then moments later, another Stern staffer John (hit 'em with the) Hein interjects and says "You can watch the first four seasons of Yellowstone on Peacock.   The 5th season you have to watch on Paramount network, or the Paramount Network App.  Howard asks "So it's not on Paramount plus?"  Hein answers, "No, it's on the Paramount Network App."  Howard then goes on a six minute rant hurling inflammatory remarks at the entire company. 
Like I said, the struggle is real even from celebrities all the way down to us common folk! In fact, it's so real that even as Howard complains about how hard it is to find content, his own content is not integrated into search.  I did a search on Roku for "The Stern Show" and got 0 results even though The Stern Show exists in the SiriusXM app on Roku.  Test some movies and show titles for yourself here, its fun.  BTW, do you have an app on Roku?  Is your app in the results?

The reason we don't see SiriusXM as a viewing option in the results is because Sirius has yet to onboard their app's metadata into Roku's Universal search. It appears they have not integrated into any of the major streaming platforms yet and this is totally common amongst some of the largest content providers in the industry, particularly on a global front.
Hey Now, I did a second search on Roku for the term "Howard Stern" and we did get some results.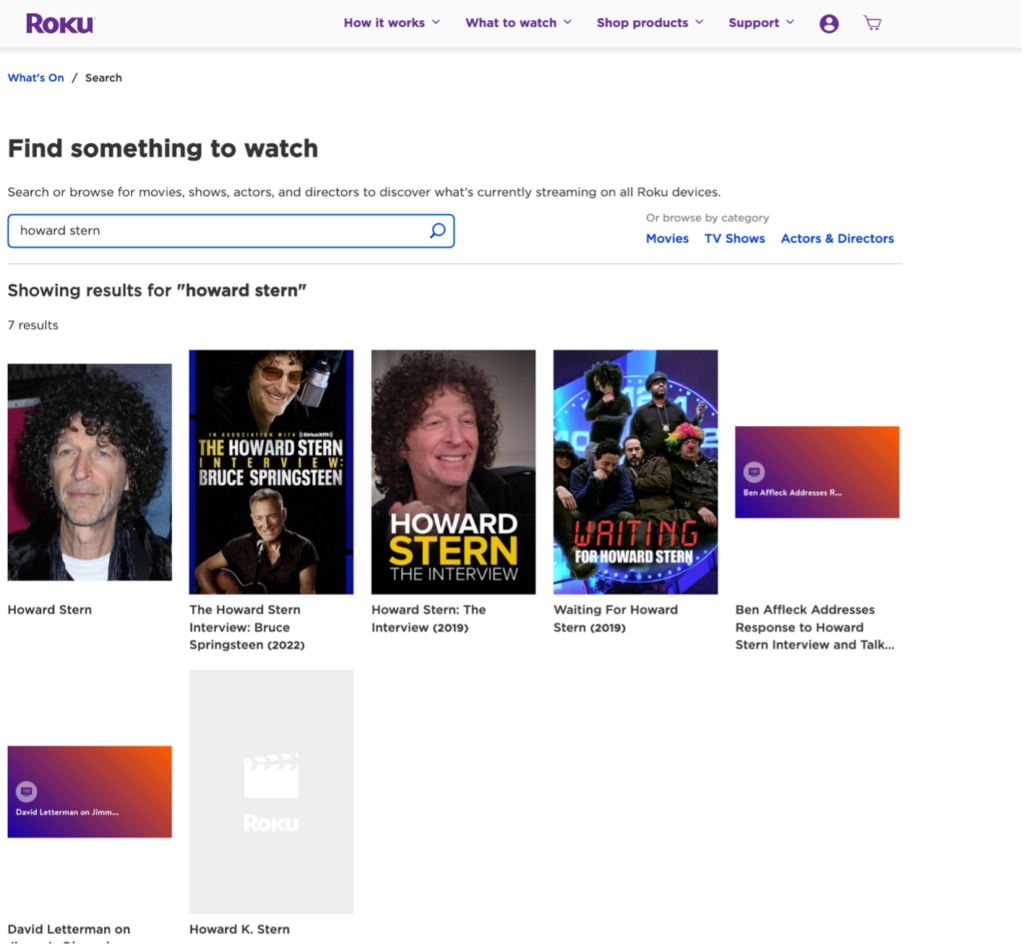 The interview Howard did with Bruce Springsteen, which also aired on HBO Max, is in the results. Why? Because HBO Max is integrated into Roku's search. SiriusXM pays Howard hundreds of millions of dollars per contract and when someone says or types "Howard Stern" on any streaming platform, HBO Max gets the traffic. It appears Spectrum is splitting the share of traffic since you can watch the HBO interview On-Demand in the Spectrum app as well. Spectrum has obviously integrated into Roku search.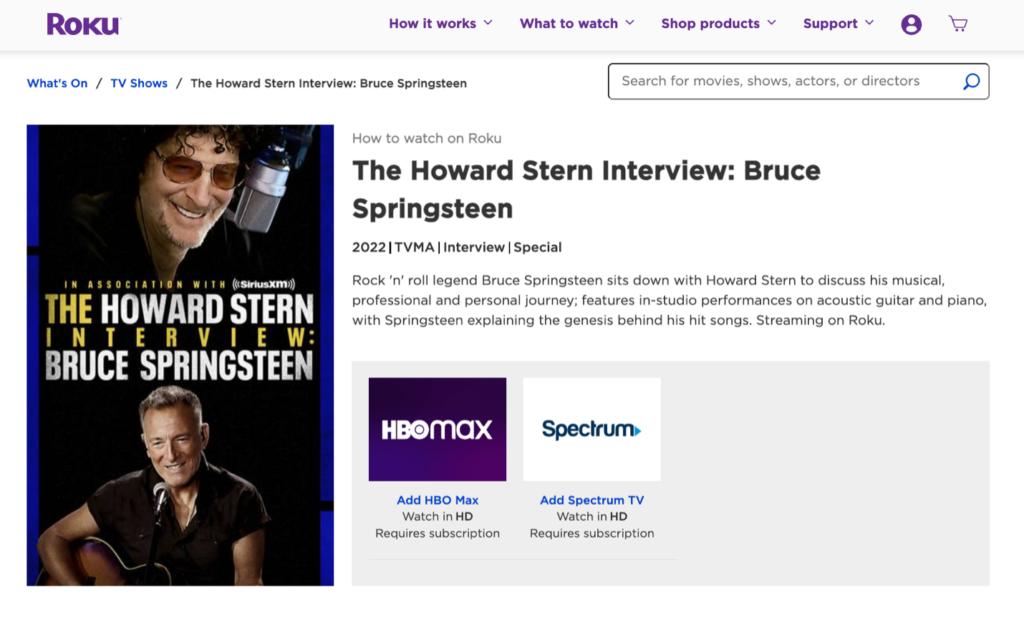 I can only imagine the rant Howard would go on about this. Howard won't even tweet because he doesn't want to send traffic to Twitter, yet every search for his content goes to an app that is not the SiriusXM app.
I'll lay off SiriusXM because as I mentioned this is a common place occurrence. Sirius XM is simply one of thousands of apps missing from search and this is why universal search is not so "universal."
So what are the reasons that these companies are not in search? Here is a short list:
Companies who build apps often do not add search to their scope of work.
Some CMS don't easily allow the exporting of data.
Some companies use multiple CMS and API's so data extraction can seem cumbersome.
The app is not configured for deep linking.
Basic Data insufficiencies.
Each streaming platform has a different proprietary spec that you must map data to.
"we just don't know where to start."
"we tried to onboard but we got stuck in the process."
"it's just not high enough of a priority to make our pipeline."
"I thought our app was in search. It's not?"
This is a quick list, and if I were to get detailed, I could list 100 more reasons.
The good news is, there is a solution. If you can relate to any of those reasons above as to why your app is not in search on the major streaming platforms like Roku, FireTV, AppleTV, Google TV, Samsung etc, then contact me and I can tell you about the company I work for called Universal Search and Discovery LLC (USAND). Our tag line is "we make getting into search easy." And we do. We have gotten companies live into search in less than ten days. The typical client gets into search in about 30-45 days and within the next 30 days you will see impressive results. Customers of our have increased their daily app installs by 1000 percen. Onboarding to universal search is the most cost effective and powerful user acquisition tool available for apps on the market today. If you want more users and more revenue, search is a must.
Are you in search? If not, let the team at USAND solve that problem for you.
Bye for now.