How Universal Search and Discovery LLC (USAND) Leverages the New Roku Search Feed Monitoring Tool.
Recently, Roku announced that their search feed monitoring tool is being made available to the public. As Roku's preferred partner for search onboarding, USAND was able to participate as a beta partner for the search feed monitoring tool. We were able to invite a handful of our clients to participate too, with the goal of providing critical feedback to the Roku product team about the features of the tool.
Roku understands that delivering a seamless and efficient search experience to users is paramount, and creating a tool to easily onboard content partners is essential to the growth of search. Sadly, the current onboarding process for search feeds on most streaming platforms is slow and redundant, taking upwards of a year in some cases. Roku has proven to be one the fastest search onboarding platforms, with typical launch times less than 90 days, or even less than 60 days if the data and deep links are configured correctly.
We are thrilled to share how we're taking advantage of Roku's new search feed monitoring tool to benefit our clients.
Revolutionizing Content Submission Workflow
The new user interface (UI) that Roku has introduced for submitting search feeds is available in the Roku developer Dashboard under the "Channel" section on a tab called "Search feeds".

This UI streamlines the process of adding your content feed to Roku's search, making it faster, more straightforward, and ultimately more efficient for all parties involved. At USAND, our clients grant us "channel management" access to the Roku Dev Portal so that we can submit the feed(s) on their behalf. Before the new feed monitoring tool was available to the public, this feed submission process was done via email communication. Now USAND can simply submit feeds and get instant feedback on the data so we can immediately troubleshoot if need be. This significantly reduces the time and effort required for submission. Now we can compare the Roku validation reports to our own internal data in real time giving us a "second set of eyes" as we assure the data is correct when onboarding to the platform.
Real-time Feed Status Updates
One of the most exciting features of the new Roku search feed monitoring tool is the real-time status updates it provides. As soon as a feed is submitted, USAND (and our clients) can track its progress. This means no more uncertainty or guessing games. The UI displays the exact status of the search feed, offering insights into the percentage of ingested content, the last ingestion time, and whether the feed has been successfully validated, published, or encountered any issues. We know that changes in the feeds are happening constantly so we need to ensure that we have the most recent data so that viewers have access to all of their favorite content in the search experience. The Roku feed monitor allows us to quickly glance at a 3rd party UI to see if anything has gotten blocked from entering search.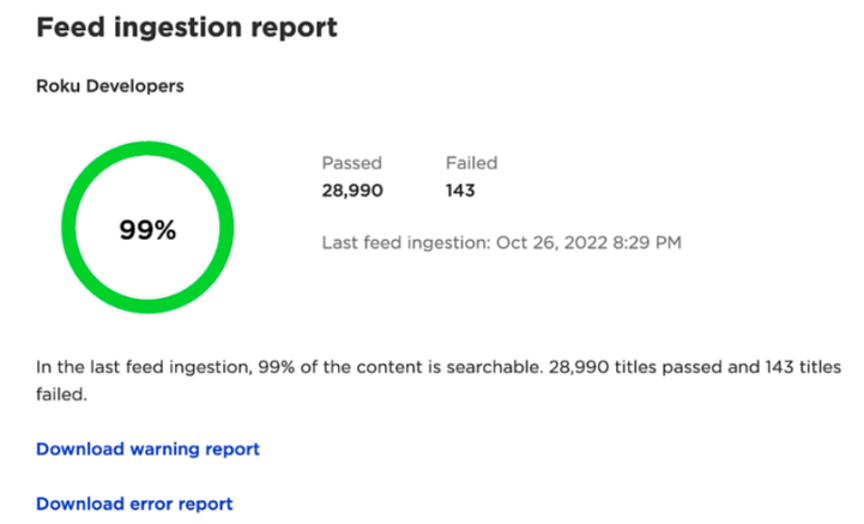 Furthermore, downloadable links to warning and error reports are provided, empowering us, and our clients, to swiftly address any issues that might arise.
If you have any questions about the new search feed monitoring tool or how to get into Roku or any other streaming platform's search results feel free to contact us here at USAND.